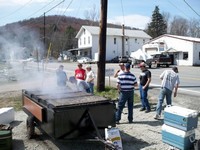 2009 Chicken Barbeque HERE
Our trail system is comprised of nearly 100% private landowners throughout the Choconut Valley region in Susquehanna and parts of Bradford County in Northeast Pennsylvania. It is a trail system which operates under strict landowner approval and enforcement of rules and regulations of our 186 family and individual members.
It is with great pride and many thanks to our membership and Business Sponsors and most of all our Landowners who provide us with the trail system for our snowmobile enjoyment.

Meetings are the 2nd Tuesday of the month, 7:30 P.M. at Choconut Inn, Choconut, PA.